M.V. O'Halloran Ltd in partnership with Coldec introduce Phosphorescent flakes (glow-in-the-dark) for floor coatings, industrial coatings and safety applications.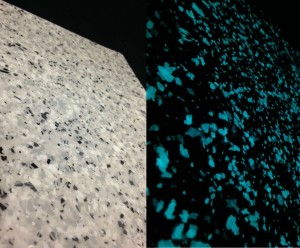 Glow In The Dark Epoxy Flooring will give your floor a truly unique edge, perfect for artistic functions such as in entertainment venues and sporting facilities, or as a safety application on footpaths, steps and railings.
These flakes can be used to enhance all types of commercial and industrial environments from retail spaces, bars and clubs to production areas. Our phosphorescent, glow in the dark epoxy / PU flooring can be used as line markings on concrete or existing epoxy floors. Phosphorescent flakes can be used to provide visual guidance in the event of a power outage. It works by absorbing light and then releasing it slowly, giving your floor a luminous glow for hours even in complete darkness.
When you chose a decorative epoxy floor system you should consider all the options available to you in terms of thickness, number of coatings, and decorative media choice. With Phosphorescent flakes walkways, lines, borders and graphics can be incorporated into your epoxy floor at the time of installation.
Contact us, we will be happy to assist you on any of your inquiries with regards to Glow in the Dark Flooring or any of our other flooring systems.