M.V.O'Halloran Ltd. provide electro static discharge (ESD) resin flooring in Ireland.
The electronics industry is set apart by a high degree of specialist and even shorter product life cycles. Producing intricate electronic components in ultra modern manufacturing plants.
Requirements for these environments are:
Prevention of electrostatic charging
EPAs for the protection of sensitive electronic devices
Reduction of cleaning costs and efforts
Protection of the floor from chemical and mechanical impacts
There are a number of different flooring systems that M.V. O'Halloran can propose for your needs.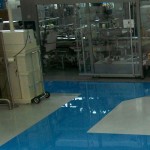 Key Features include: 
MECHANICAL & ABRASION RESISTANT SUPER DURABLE, LONG WEARING FINISH
FAST TRACK INSTALLATION
POSITIVE TEXTURED FINISH AVAILABLE
ESD & CHEMICAL RESISTANT
LOW MAINTENANCE
Contact us for further information