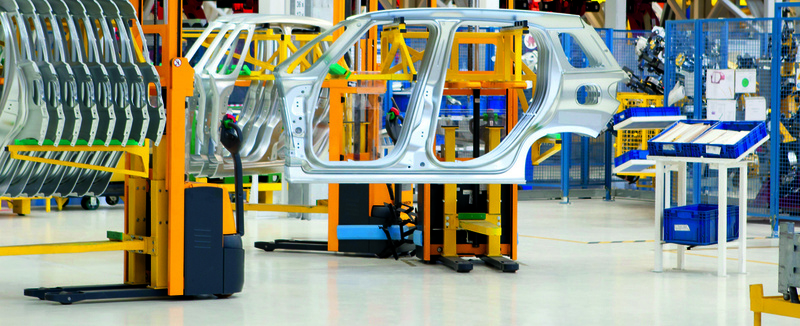 Industrial floor systems can be found in all major sectors. That is why we, along with our experienced partners, have been providing support to a wide range of industrial sectors from automobile or mechanical engineering through to pharmaceutical and other industrial sectors where floors need to keep what they promise and meet certain criteria.
An important success factor is the durability of an industrial floor. The most common mechanical loads to which floors are exposed are: traffic, impact, abrasion or point loads. This is why floor systems need to be specifically selected and applied for the individual loads.
In addition, chemical resistance is becoming increasingly important loads with respect to the stricter ground and water pollution control regulations (WHG § 62/63). Numerous chemicals are used in industrial applications and these can impact heavily on the floor substrate. These include oils, greases, fuels and soluble salts through to various alkalis, very caustic acids and aggressive cleaning agents. The concentration of chemicals in combination with the temperature conditions create a base for selecting the optimum industrial floor.
FeRFA Types of synthetic resin flooring
| Type | Name | Description | Duty | Thickness |
| --- | --- | --- | --- | --- |
| 1 | Floor Seal | Applied in two or more coats. Generally solvent or water borne. | LD | up to 150 μm |
| 2 | Floor Coating | Applied in two or more coats. Generally solvent free. | LD/MD | 150 μm to 300 μm |
| 3 | High Build Floor Coating | Applied in two or more coats. Generally solvent free. | MD | 300 μm to 1000 μm |
| 4 | Multi-layer Flooring | Aggregate dressed systems based on multiple layers of floor coatings or flow-applied floorings, often described as 'sandwich' systems. | MD/HD | 2 mm |
| 5 | Flow Applied Flooring | Often referred to as 'self-smoothing' or 'self-levelling' flooring and having a smooth surface. | MD/HD | 2 mm to 3 mm |
| 6 | Resin Screed Flooring | Trowel-finished, heavily filled systems, generally incorporating a surface seal coat to minimize porosity. | MD/HD | > 4 mm |
| 7 | Heavy Duty Flowable Flooring | Having a smooth surface. | HD/VHD | 4 mm to 6 mm |
| 8 | Heavy Duty Resin Flooring | Trowel-finished, aggregate filled systems effectively impervious throughout their thickness. | VHD | > 6 mm |